Climate protection at the University of Natural Resources and Life Sciences Vienna
What is happening in the area of
climate protection at BOKU?
The strategic goal of the BOKU sustainability strategy is climate neutrality by 2030. angestrebt.
The competence center for climate neutrality has been calculating the CO
2
balance of BOKU since 2013 and thus accompanies it on this path. With the CO
2
balance, the fields of action - above all electricity, district heating and business trips - are clearly visible. Accordingly, when developing a climate protection strategy, targeted measures can be defined and continuously improved.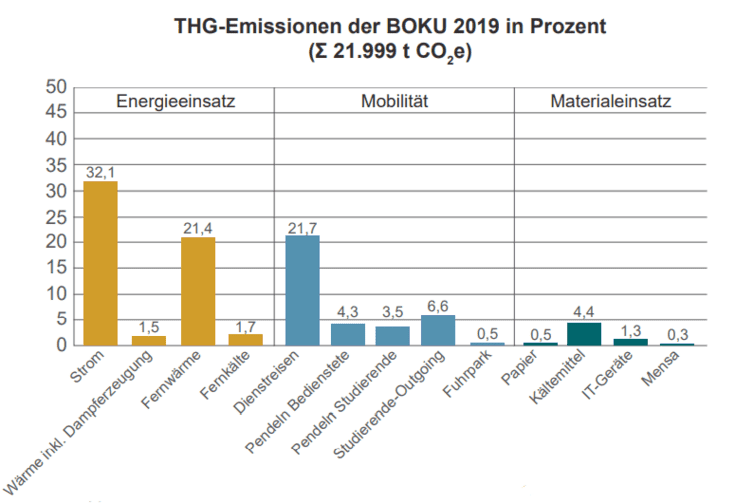 BOKU's greenhouse gas balance shows at a glance where the major emission items are: electricity, district heating and business trips, although these fell drastically in 2020 due to the COVID-19 pandemic. For the coming years, however, a renewed increase in emissions is expected in the area of business travel, which should be dampened with the help of appropriate guidelines, positive incentives and awareness-raising campaigns. In order to achieve the goal of climate neutrality by 2030 defined in the sustainability strategy, reduction potentials are currently being explored and proposals for measures are being developed.
With the switch to UZ46-certified electricity on January 1, 2021, BOKU has already taken a big step towards climate neutrality!
More information and explanations on the university's greenhouse gas emissions can be found in the BOKU sustainability report on pages 82-104.